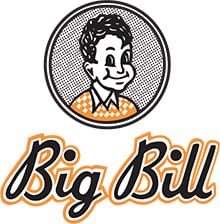 In September of 2011, W. M. Meador Co., a supplier of the Big Bill brand of dry beans and peas to the institutional and food service industries became part of the China Doll family. We have added China Doll rice and Dixie Lily corn meal and grits to the Big Bill business and can service the same market with additional products.
W. M. Meador Co. was started by "Big Bill" Meador as a packer of rice, beans and grits for the retail market in the late 1930's. Brokerage of other consumable products including dry beans, rice, sugar and canned vegetables came along later and continues today. W. M. Meador, Jr. took over the business around 1950.
The Meadors began packing 25 lb. & 50 lb. bags of beans and peas for the institutional market in four Southeastern states in 1965. Shortly after that in the early 1970's, three of Mr. Meador, Jr.'s sons came into the business and William and Murray are still working at China Doll today. China Doll is lucky to have two brothers with over 40 years experience.
For questions please contact: [email protected]
Products
| Item # | Description | Pounds Each |
| --- | --- | --- |
| 00200 | Big Bill Large Lima Beans 1/25 Lb | 25 |
| 00300 | Big Bill Baby Lima Beans 1/25 Lb | 25 |
| 00400 | Big Bill Great Northern Beans 1/25 Lb | 25 |
| 00450 | Big Bill Great Northern Beans 1/50 lb | 50 |
| 00500 | Big Bill Light Red Kidney Beans 1/25 Lb | 25 |
| 00600 | Big Bill Pinto Beans 1/25 Lb | 25 |
| 00605 | Big Bill Garbanzo Beans 1/50 | 50 |
| 00650 | Big Bill Pinto Beans 1/50 | 50 |
| 00659 | Big Bill Garbanzo Beans 1/25 Lb | 25 |
| 00700 | Big Bill Navy Beans 1/25 Lb | 25 |
| 00750 | Big Bill Yellow Split Peas 1/25 Lb | 25 |
| 00751 | Big Bill Navy Beans 1/50 Lb | 50 |
| 00800 | Big Bill Small Red Beans 1/25 Lb | 25 |
| 00850 | Big Bill Green Split Peas 1/25 Lb | 25 |
| 00851 | Big Bill Green Split Peas 1/50 Lb | 50 |
| 00900 | Big Bill Black Beans 1/25 Lb | 25 |
| 00905 | Big Bill Black Beans 1/50 Lb | 50 |
| 00950 | Big Bill Lentils 1/25 Lb | 25 |
| 00951 | Big Bill Red Lentils 1/25 Lb | 25 |
| 00952 | Big Bill Black Beans (Packed) 1/50 | 50 |
| 00953 | Big Bill Lentils 1/50 | 50 |
| 01751 | Big Bill Yellow Split Peas 1/50 Lb | 50 |
| 01752 | Big Bill Whole Green Peas 1/25 Lb | 25 |
| 01753 | Big Bill Whole Yellow Peas 1/25 Lb | 25 |
| 01754 | Big Bill 50/50 Yellow/green Split Peas 1/50 LB | 50 |
| 01755 | Big Bill 8-Bean Soup Mix 1/50 LB | 50 |
| 12639 | Dixie Lily Quick Grits – 8/5 LB | 40 |
| 53525 | China Doll Parboiled Rice 1/25 LB | 25 |