Ingredients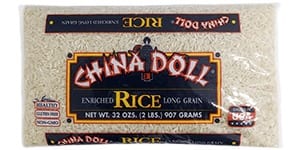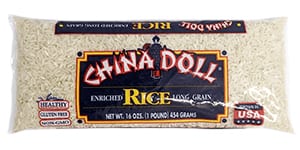 Long Grain Enriched Milled Rice, Ferric Orthophosphate (Iron), Niacinamide (Niacin), Thiamine Mononitrate (Thiamine), and Folate (Folic Acid).
Cooking Directions
Stove top cooking instructions. Combine 2 cups of cold water, 1 tablespoon margarine or butter and 1 teaspoon of salt in a heavy 2-3quart cooking container. Bring to a rolling boil in uncovered container, stir in 1 cup of rice, lower heat to simmer, and cover with a tight-fitting lid. Simmer for 20 minutes. Do not remove lid while cooking. This makes rice gummy.
Microwave cooking instructions. Combine 1 cup rice, 2 cups cold water, 1 tablespoon margarine or butter and 1 teaspoon salt in a 2- to 3-quart deep microwave baking dish. Cover and cook on high (maximum power) for 5 minutes or until boiling. Reduce heat to medium (50% power) and cook 15 minutes. Fluff with fork
*To retain vitamins do not rinse before or drain after cooking
Note: this product is grown in nature's earth. Although handled by the latest modern mechanical methods, it is sometimes impossible to remove all foreign material. Check carefully before preparing. Thanks!
Nutrition Facts
Serving Size 0.25 cup (45g)
Servings Per Container 20 (32 oz. pkg.)
Amount Per Serving
Calories 160
Calories from Fat 0
% Daily Value *
Total Fat 0g
0%
Saturated Fat 0g
0%
Trans Fat 0g
Sodium 0mg
0%
Total Carbohydrate 36g
12%
Dietary Fiber 1g
4%
Protein 3g
4%
Iron
8%
Folic Acid
15%
Niacin

8%

Thiamine
15%
Not a significant source of calories from fat, saturated fat, cholesterol, sugars, vitamin A, vitamin C and calcium.
* The Percent Daily Values are based on a 2,000 calorie diet, so your values may change depending on your calorie needs.
This product's ingredients are grown, sown, milled and packaged in the USA.
Ordering/Size Information
| UPC Code | Package Size | Case Qty. |
| --- | --- | --- |
| 50501 | 1 lb. | 24 |
| 50502 | 2 lb. | 12 |
| 50503 | 3 lb. | 10 |
| 50550 | 50 lb. | 1 |