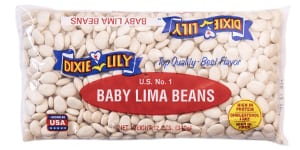 Ingredients
Dried baby lima beans.
Cooking Directions
1. Spread out beans and remove any foreign particles.
2. Wash beans in cold water.
3. Cover beans with about 2 inches of water and soak as follows:
Quick Method:
Boil beans in water for 2 minutes. Remove from heat, cover and soak one hour.
Overnight Method (Preferred):
Boil beans in water for 2 minutes. Remove from heat, cover and soak 4 hours or overnight.
4. Drain soak water and replace with fresh water. (Beans are more easily digested if soak water is discarded.)
5. Add 1 tsp. salt for each cup of beans, if desired. If cooking with salt pork or other seasonings, reduce salt. You may also use either of the two seasoning methods below:
Traditional method: in a large pot add 6 cups of cold water to each pound of drained and rinsed soaked beans. Add 2 tsp. shortening or oil and 2 tsp salt.
Savory method: follow traditional method above, but substitute 2 tsp. onion salt and 1/4 tsp. garlic salt for the plain salt. Add 1 tsp. chicken stock base or 3 or 4 chicken bouillon cubes and 1/4 tsp. white pepper.
6. Cook beans, covered, over low heat for about 2 hours or until tender, add a little more water if necessary to keep beans covered. Taste for salt. NOTE: Boil beans gently and stir very little to prevent breaking skins.
*Click for microwave instructions
*Click for pressure cooker instructions
One cup dry beans makes about 2-1/2 cups cooked beans.
NOTE: This product is grown in nature's earth. Although handled by the latest modern mechanical methods, it is sometimes impossible to remove all foreign material. Check carefully before preparing. Thanks!
Nutrition Facts
Serving Size: 0.25 cup (38g)
Servings Per Container: 9 (12 oz. pkg.)
Amount Per Serving
Calories 70
Calories from Fat 0
% Daily Value *
Total Fat 0g
0%
Saturated Fat 0g
0%
Trans Fat 0g
Cholesterol 0mg
0%
Sodium 20mg
1%
Total Carbohydrate 24g
8%
Dietary Fiber 15g
60%
Sugars 1g
Protein 8g
Vitamin A
0%
Vitamin C
0%
Calcium
2%
Iron
30%
* The Percent Daily Values are based on a 2,000 calorie diet, so your values may change depending on your calorie needs.
This product's ingredients are grown, sown, milled and packaged in the USA.
Ordering/Size Information
| UPC Code | Package Size | Case Qty. |
| --- | --- | --- |
| 66063 | 1 lb. | 24 |
| 60063 | 12 oz. | 24 |
| 61063 | 24 oz. | 12 |