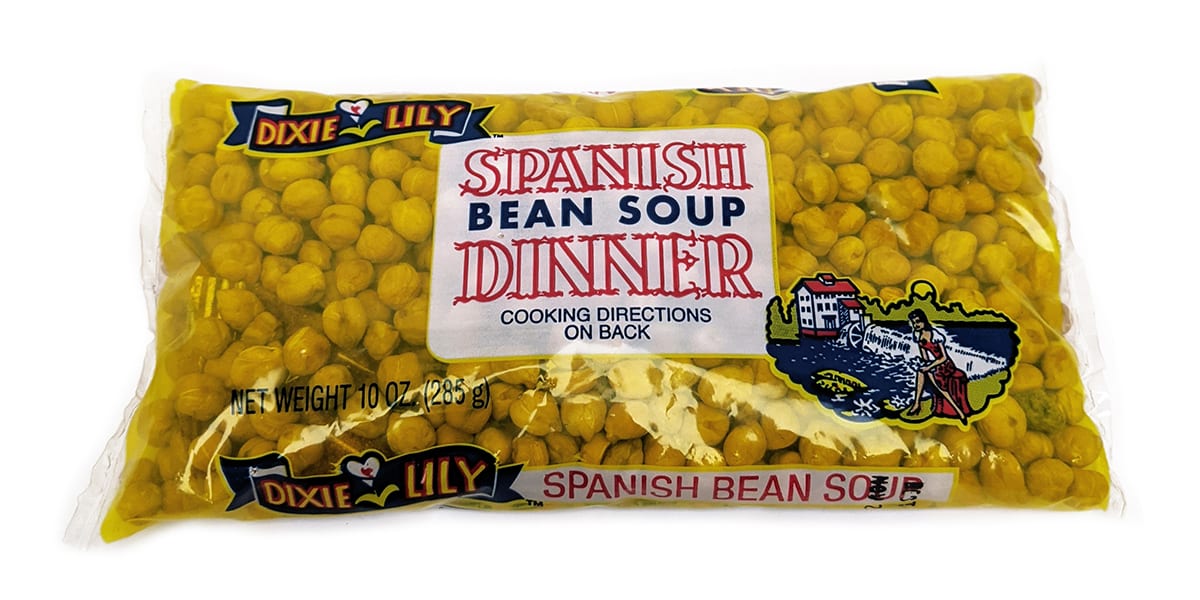 Ingredients
Garbanzo beans, dehydrated red and green bell peppers, onion powder, tomato powder, garlic powder, monosodium glutamate (flavor enhancer), salt, tomato flakes, hydrolyzed plant protein, yellow #5, sugar, corn starch, soy flour, chicken fat, hydrogenated soy and/or cotton seed oil, dehydrated chicken meat, turmeric, spices, disodium insinuate, and disodium gunylate (flavor enhancers), natural flavors.
Cooking Directions
Soak beans overnight in salt water to cover. When ready to cook, drain off salt water from beans. Pour the beans into 6 cups of boiling water. Add ingredients that are enclosed in package, diced potatoes and chopped smoked pork sausage. Cook until done.
Note: this product is grown in nature's earth. Although handled by the latest modern mechanical methods, it is sometimes impossible to remove all foreign material. Check carefully before preparing. Thanks!
Nutrition Facts
Serving Size: 1/3 cup (49g) Servings Per Container: 6 (10 oz. pkg.)
Amount Per Serving
Calories 120
Calories from Fat 20
 
% Daily Value *
Total Fat 2g
3%
Saturated Fat 0g
0%
Trans Fat 0g
 
Cholesterol 0mg
0%
Sodium 70mg
3%
Total Carbohydrate 32g
11%
Dietary Fiber 15g
60%
Sugars 1g
 
Protein 89
 
Vitamin A
2%
Vitamin C
20%
Calcium
6%
Iron
10%
* The Percent Daily Values are based on a 2,000 calorie diet, so your values may change depending on your calorie needs.
This product's ingredients are grown, sown, and packaged in the USA.